About AFSCME
Oregon AFSCME Council 75 represents some 25,000 workers in Oregon. Most are public employees who work for either the State of Oregon or an Oregon city, county or special district. Oregon AFSCME does represent some private sector employees as well; most of those are employed by non-profit agencies that provide some form of public service. Oregon AFSCME is member-driven.
History
Nationally, the history of AFSCME began in 1932, as the country suffered through The Great Depression, when a small group of white-collar professional state employees met in Madison, Wis., and formed what would later become the Wisconsin State Employees Union. The reason for the group's creation was simple: to promote, defend and enhance the civil service system.
Staff
Oregon AFSCME employs a large, professional staff that is second to none! In addition to our well-trained union representatives, we have staff specializing in organizing new members, finances, communications, research, community partnerships, political campaigns/lobbying and more! Oregon AFSCME also employs two in-house attorneys.
Community Partners
WELCOME Oregon AFSCME members serve and interact with the public and community members in various capacities.  We acknowledge our members are affected by various issues beyond the workplace. Hence, our organization is committed to develop sustainable and long-term relationships with community and advocacy partners.
Retirees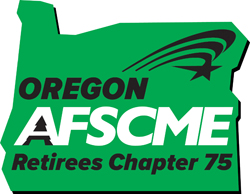 Oregon AFSCME Retirees invites all retirees from AFSCME-represented agencies to join us — as well as retirees from other public sector unions. Classified and management retirees are eligible to join as well. We believe a career in public service is something to be proud of. We have the right to a secure and dignified retirement.
Download:

Chapter 75 constitution approved 10-2-2015.pdf
Page Last Updated: Oct 01, 2019 (12:45:00)